A selection of music in various styles. 78's section to follow - Some rare items will be converted to MP3.
PLUS A TRIBUTE TO THE LATE, GREAT MIKE JOHNSON (in the Classical section)
If, when trying to download a file, you get a message stating that the MP3 is not available, please contact me and I will reload it.
The Complete Recorded Work of Intruder.
Two CD's are now available, CD1 with the studio work, and CD2 with all of the rehearsals (recorded with a portable cassette recorder at the Talbot Public House - thanks to the various Landlords and Staff who put up with us).
Each CD is priced at £4.75 inc P&P (for UK orders). Contact me for more details.
Click the Intruder Logo for a sample.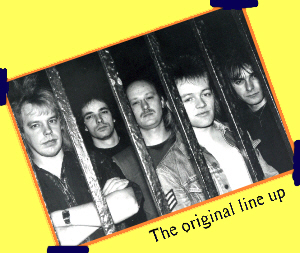 The Rehearsals
Tribute to Michael D Johnson 1953-2011
Tribute being compiled - I am looking for stories, anecdotes, facts and figures about Mike to add here. Anything from his history in the rail industry, appearances on TV's New Faces and The Bill, etc etc......
Please contact me with any details you may have. Thanks.
Classical guitar pieces performed by Michael Johnson
These were recorded live, in Mike and Geraldine's living room in Derby c.2000, using a Vestax analog 4 Track recorder. They were transferred to MP3 using the reduced quality option to keep file size low.
Accompanied By Geraldine Johnson

One Note Samba [2.15MB] Antonio Carlos Jobin
Dindi [3.71MB] Antonio Carlos Jobin